Kees Vlak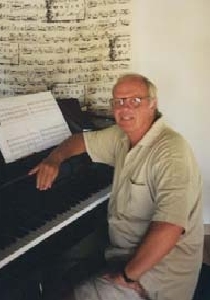 Composer Kees Vlak (born 1938) studied trumpet and piano and afterwards orchestral conducting and composition at the Conservatory of Amsterdam. When he was 15 years, he started working as a freelance copyist at the Dutch Radio Union (which later became known as NOS) and here he got the opportunity to study professional arrangements. This was followed by becoming an arranger there himself. In various orchestras he played both symphonical as well as entertainment music. He conducted several wind bands. So far he has composed about 450 pieces, both for (full size) orchestras as well as young bands. Also he wrote various solo pieces. Clarity in music has always been of great importance to Kees Vlak – music is communication. Because of recognistion purposes, he likes using musical characteristics of different countries. The first composition from Kees Vlak that was published was the piece Paso Cabaio, that was published by Tierolff in 1967. Since the year 2000 Kees Vlak has his new publications also being published by Tierolff Muziekcentrale. Kees died in Schoorl (Nl) on December 5th 2014.


Here is a list with works of Kees that have been published by Tierolff.
Kees as composer:
Kees as arranger:
Sheetmusic for concert -, or fanfare band.
Composer : Stephen Foster
Arranger : Kees Vlak
Duration : 5:55
Sheetmusic for concert -, or fanfare band.
Composer : Stephen Foster
Arranger : Kees Vlak
Duration : 5:55